The Smart Science within GOQii Smart Vital
With GOQii Smart Vital, you now have convenience on your wrist. The Smart Vital has 4 individual devices bundled in one to measure 4 different Vital parameters.
More so, GOQii Smart Vital is a device that has been recognized by two prestigious institutions in India, namely the Central Drugs and Standard Control Organization (CDSCO, Ministry of Health) and the International Organization for Standardization (ISO). Under CDSCO, the GOQii Smart Vital is approved as a registered medical device (GOQii-MUMBA-MH/M/MD/001104).
It is also ISO certified under the following grades:
ISO 9001 certification ensures consistency, good quality products and services.
ISO 13485:2016 certifies an organisation's ability to provide medical devices and related services that meet applicable regulatory requirements.
ISO 27001 enables organizations to manage the security of assets such as financial information, intellectual property, employee details or information entrusted by third parties.
ISO 27799 certifies that the healthcare organization and other custodians of health information ensure a requisite level of security and maintain confidentiality, integrity and availability of personal health information in their care.
The Science/Engineering That Makes It Possible
GOQii Smart Vital uses Photoplethysmography or PPG, which is a method to measure the amount of light that is absorbed or reflected by blood vessels in living tissue. It detects the change of blood volume by the photoelectric technique to record the volume of blood in the sensor coverage area to form a PPG signal.
The 4 integrated LED and Photodiode sensors in the GOQii Smart Vital make this possible. The photodiode sensor detects changes in skin temperature on the wrist and displays your body temperature on the screen. The LED sensors check the speed of blood flow and relative reflection to measure heart rate, blood pressure and SpO2. The combination of green and red light obtain PPG signals, as each light penetrates the human tissue differently. The combination of both the lights can help reflect blood pulse from deep tissue for better accuracy. This technology is convenient and is applied to detect blood oxygen (SpO2 %), heart rate and blood pressure. The added advantage being that it can be measured continuously and at your convenience using this device.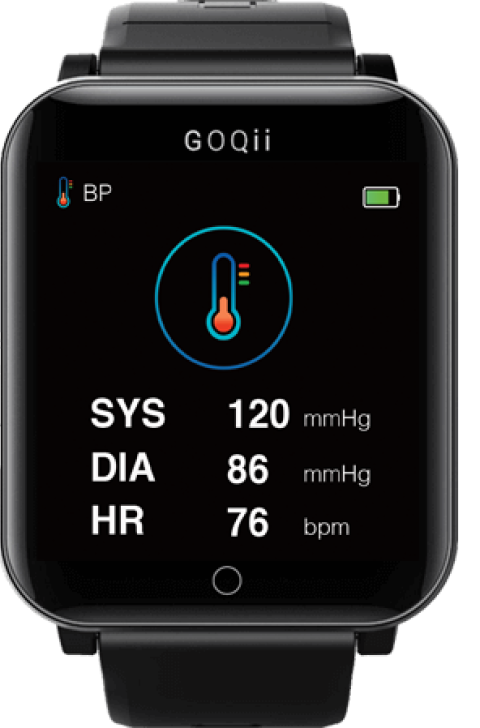 With blood pressure (reported in mm Hg), the normal range for an adult is less than 120 for Systolic & less than 80 for Diastolic (*check the table below).
Your healthcare provider or doctor needs to consider what is normal for you as there are factors such as age, sex, ethnicity, weight, exercise, stress levels, pregnancy as well as medication, disease or a genetic condition which can influence your blood pressure levels.
The diurnal cycle influences blood pressure as well – which is lower in the morning and increases throughout the day until early evening.
The above factors can drastically impact your heart rate as well which can change constantly based on your lifestyle as insufficient nutrition, lack of sleep, insufficient recovery after a workout, illness or medication can affect your heart rate as well.
Do try taking your readings at different times during the day. The App will capture the information and you can monitor your trends.
The Science/Engineering That Makes It Possible
GOQii Smart Vital, along with the Vital 3.0 have been tested extensively in clinical conditions and is under clinical study by K. J. Somaiya Medical College and Research Center – one of the best private medical colleges which is owned and managed by the Somaiya Medical Trust. The results when compared to medical devices, is as below:
Assured Data Security
If you have qualms about sharing your personal data recorded via the device, you can rest easy. GOQii believes in data for social good. Our goal is to to provide you with easy-to-incorporate lifestyle changes to improve your quality of life, and ultimately promote the longevity of the average Indian. We do this by using large, aggregated, anonymised data sets, from over millions of users, collected over a length of time, to generate health and fitness trends and insights. This information is compiled into a report, which we make publicly available. Since the data we collect is voluminous and anonymised, health data of any single individual cannot be inferred from the data sets. Our aim is to use the data we collect to understand motivation and identify the techniques which are most effective in motivating and incentivising healthy behaviours so that users can achieve health goals as quickly as possible, to identify the factors that are instrumental in cementing long-lasting, sustainable health habits, and finally, to predict, detect and prevent diseases before they occur. To know more, read our Privacy Policy.